Aircraft Name: Stik-E-1
Motor: TURNIGY 50-55B 600kv Outrunner(.46 eqiv')
(Could crank up to 1400 watts with a 6S battery!)
Prop: 13x10E
ESC: Turnigy Brushless ESC 85A w/ 5A SBEC
Battery: 5000Mah 4S 25C Blue LiPo
Radio TX: JR 9303 (still on 72MHz!)
Rx: JR 790UL synthesized SPCM
Probably migrate to 2.4GHz for WOW.
Servos: JR DS811 digitals
Final Weight: 6 lb 13oz
Covering: Mixture of gold Solarfilm, black Econokote, black Monokote and red Oracover
(I raided some OLD boxes!)
Significant mod's:
- Slimmed down wingtips
- Streamer ? :-) NO provision for a streamer!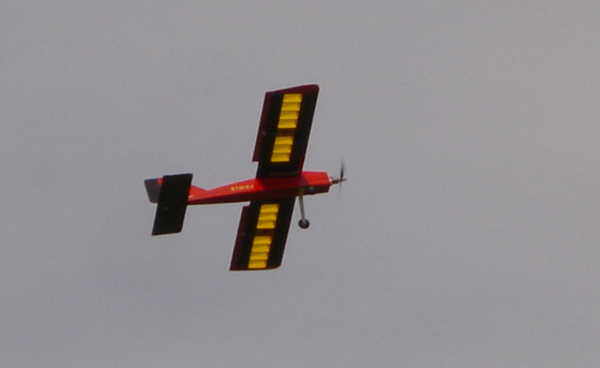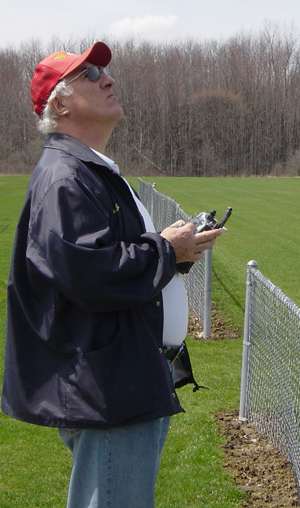 4/11/11: Stik-E-1 is now ready for its maiden flight! Not flown, but will hang on the prop while blowing a ton of dust around my basement!
I guess "Stik-E-1" is now official, seeing as I have now added that to the fuse sides!!
Mini-Toledo plane?----- hmmm, that means I can't fly the beast for almost two weeks! Not sure I can wait that long, I'm dying to see what it can do. Let's see what the weather does between now and then!

04/24/11: Maiden Flight:
"Lightning maidened his Stik-E-1 today with great results - - - other than finding out one lap into his second flight that he had not charged the second battery. No harm, just a bit of a retrieval walk by one of his pit crew. "
Iceman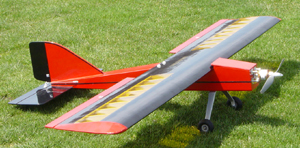 01/23/11:
Stabilizer to cover and control surfaces yet to install. That red is Ferrari red, but it looks orange in the photos!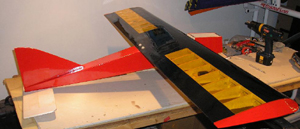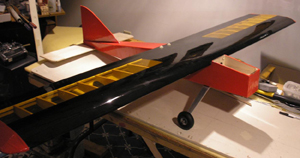 01/22/11:
Bottom of wing is covered. Too bad I ran out of black Monokote - maybe I'll find a roll at the swap meet tomorrow.
Translucent gold is specially for Don, so he can read "bottom" on all my ribs from the same side!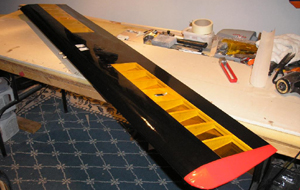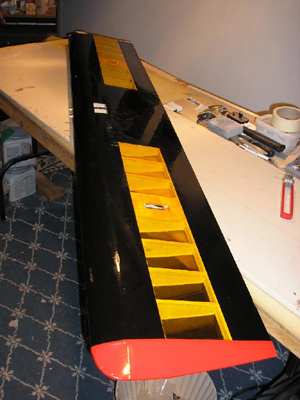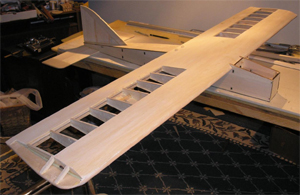 01/16/11- Wing sanded and mounted. Fuse not sanded yet, waiting for its 800W electric motor.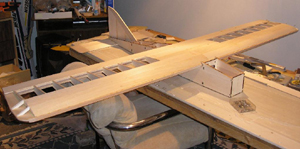 01/11/11
It is more or less built. Damn, that was a lot of sheeting! Need to shape the wing leading edge, add the servo mounts (wing and fuse) then get started on the motor mounting. Note the wing tip redesign!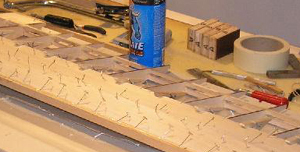 01/10/11
W ing LE is sheeted top and bottom, now I have the TE to do. Look at all those pins!!!