January 2011 Ground School at EAA Chapter 13 Hangar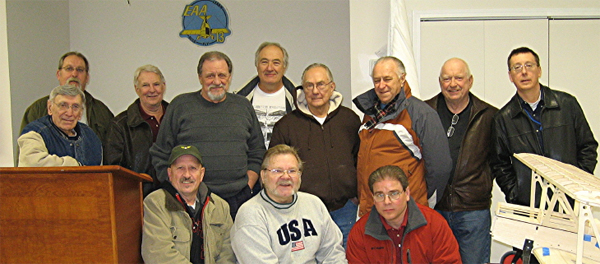 A decent turnout for ground school considering the weather---snow, & slow going traffic.
There was a variety of renditions of the plane from: stock as designed, to low-wing, to tri-motor, to bi-wings, powered by electric, to two strokes and four strokes, trike gear, to tail draggers, different wing spans and wing tips and in various stages of build as witnesses by the photos (on individual members' pages). Each builder who brought in their plane gave a report on their build status, engine or motor power, battery, landing gear set-up, covering, etc. There were questions and answers presented to, and answered by each presenter....... many good comments and recommendations.

Seeing all the enthusiasm the builders presented at the meeting, certainly made all the effort that was put into the project, well worth it.

Yes, we are having fun!
Rattlesnake